Customized Clothing Design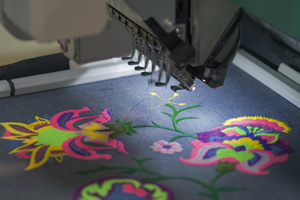 Pro Embroidery in Swift Current offers custom embroidery for any apparel item. We complete all of our embroidery in house, using our three Embroidery Tajima embroidery machines. When a customer arrives in our store, the Pro Embroidery team begins working with them to choose their product from our large selection of both in-store inventory and items available to order in our catalogues. We are able to bring in the clothing item or other product for our client or their sports team to try on. Next, we get the logo from our customer, which can be a sketch, photo, or any other format—we can work with what you have to create a graphic design logo. The artwork is recreated in a digital format, which involves changing the image into stitches so that the machines can embroider the logo.
Once the logo has been created, we will present a sample of the logo to make sure the colors, sizes, and stitch appearance match what the client is looking for. After finalizing the design, the product is embroidered.
In addition to embroidery, we also do our own in-house applique. This is the process you see used on many team jerseys. We are able to cut the applique in-house, personalizing jerseys without the long wait times and higher costs you would find with stores that outsource this service. Up to 3 colors are available, and logos can be created with applique as well.
Just some of our embroidered and applique products include:
Corporate Branding (polo shirts, t-shirts, jackets)
Agriculture Industry Wear
Sports Teams (jerseys, practice wear)
Schools (spirit wear, etc.)
Oilfield Industry Uniforms
Safety Products
We also have Mondor wear and Limeapple youth wear available—this brand specializes in dance, skate, and gymnastics wear. We'll embroider your leotards and bodysuits, yoga style jackets, and costumes. We also have the tights needed to practice and perform at your best.
Contact us or stop in and see us to create your customized apparel.